Posts for: September, 2014
By LaRoche Dental
September 23, 2014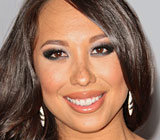 If you've ever watched Dancing with the Stars on television, you've no doubt noticed the vivacious and talented Cheryl Burke, whose ballroom dance moves are as captivating as her bright smile. In fact, Cheryl considers her smile to be one of her most important assets as a professional dancer.
"As a performer, you're basically smiling the whole time," Cheryl told Dear Doctor magazine recently in an exclusive interview. "It's just really important to take care of your teeth and have a great smile."
Cheryl is very conscientious about caring for her smile, but that wasn't always the case. In the Dear Doctor interview, Cheryl revealed that her teeth suffered from ineffective oral hygiene when she was younger. "I definitely had my share of cavities," Cheryl recalled, adding that she believed this was her own fault. "I didn't use floss," She explained. "I think when you do floss frequently, it helps to reduce the chances of getting cavities. It took me a while to figure it out."
Once Cheryl did figure it out, she was able to make cavities a thing of the past. But in order to make sure the effects of her prior tooth decay did not mar her lovely smile, she made sure her dentist — who is also her stepdad! — gave her tooth-colored fillings that could not be distinguished from the surface of a natural tooth. "It's important for me," Cheryl said.
Lots of dental patients feel the same way, even if they don't spend time in front of television cameras. That's why the dental profession has developed tooth-like materials such as composite resins and porcelains that mimic natural tooth material exactly. These materials are also suitable for children's teeth and can incorporate fluoride to reduce tooth decay. It's even possible to replace old silver-colored fillings with these newer dental materials.
If you would like to learn more about tooth-colored fillings, please contact us to schedule an appointment for a consultation. To read Dear Doctor's entire interview with Cheryl Burke, please see "Cheryl Burke." Dear Doctor also has more on "The Natural Beauty of Tooth-Colored Fillings."
By LaRoche Dental
September 08, 2014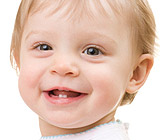 Our "baby" teeth begin appearing around six months of age — by age 10 or 13, they've largely been replaced by our permanent teeth. Though their lifespan is relatively short, baby teeth play an important role in our dental development. In fact, saving a damaged baby tooth is an extremely important treatment goal even though they will be eventually lost.
Baby teeth perform a number of functions as our mouth and facial structure develops during our formative years (infancy to early adulthood). Besides providing a means to chew food, baby teeth aid speech by providing contact points for the tongue while speaking. They help us relate to others socially through smiling and other facial gestures. And, in relation to our long-term development, they serve as both guides and "placeholders" for our permanent teeth until they're ready to erupt.
Thus, a permanent tooth's development could be stymied if its counterpart baby tooth is lost prematurely. It could come in misaligned or not erupt fully if adjacent teeth have drifted into the open space. The resulting malocclusion (bad bite) could require long-term orthodontic treatment with higher costs than treatments to save the baby tooth and avoid the misalignment.
There are various treatments to prevent and save at-risk baby teeth. Even a badly decayed tooth might be saved with a pulpotomy, a similar treatment to a root canal but less invasive. This is often followed with a stainless steel crown to cover the remaining tooth and restore some of its form and function.
If it's not feasible to save a baby tooth, we may recommend installing a space maintainer that prevents other teeth from drifting into the resulting space until the permanent tooth is ready to erupt. This orthodontic appliance usually consists of a metal band cemented to an adjacent tooth with an attached stiff wire loop that extends across the gap and rests against the tooth on the other side. Although effective, space maintainers can break or become dislodged, require extra monitoring and are often cosmetically unappealing.
In any event, the primary goal should be to save a baby tooth, if possible. Doing so will prevent more serious long-term problems for permanent teeth.
If you would like more information on the importance of baby teeth, please contact us or schedule an appointment for a consultation.