Posts for: June, 2014
By LaRoche Dental
June 17, 2014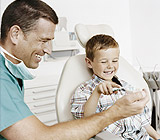 While our children are small, we want to make sure they receive the best (and safest) care — that's why a parent's job can include finding the most comfortable stroller, picking out the best-rated car seat… and making sure kids get top-quality health care. When it comes to dental care, some parents are surprised to learn that a child's first visit to the dentist should take place before his or her first birthday. If that seems too soon, keep in mind that recent evidence-based studies show that starting dental visits prior to age one not only reduces oral health costs, but also ensures that kids will have more pleasant dental experiences in the future.
What are the top five ways to help ease young kids through their earliest trips to the dental office? We're glad you asked.
Stay calm — even if dental visits make you a little nervous yourself. Kids pick up almost instantly on non-verbal cues, positive or negative. A few soothing words and a gentle touch can go a long way toward calming any worries they may have.
Explain — but not too much. Let them know what to expect in the most basic terms, but leave talking about the nuts-and-bolts of it to us. We pediatric dentists go to great lengths to make children feel safe and comfortable in our care, and we can tell kids all they need to know in age-appropriate terms they can easily understand.
Model healthy behavior — both in and out of the home. In the early years (and later, too), parents are the primary role models for their kids. Don't just tell your kids — show them how you brush and floss your teeth regularly, and let them know why you avoid soda and "energy" drinks, and limit sugary snacks to after mealtimes.
Learn how to maintain good oral hygiene — Did you know that tooth decay is the second most common disease in humans, after the common cold? Babies aren't born with decay-causing bacteria — but one in four picks up oral bacteria from their caregivers! You can help prevent cavities by developing healthy habits. Where can you learn more? From us, of course! Next time you come in, ask us how to keep teeth sparkling clean and decay-free. And, of course, look for more tips in our blog posts.
Get it done in Year One — We can't say it enough: Starting children out right, with appropriate early dental care, can help set them up for a lifetime of good checkups and healthy teeth. And isn't that something we all want for our kids?
If you would like more information about children's dental visits, please contact us or schedule an appointment. You can learn more in the Dear Doctor magazine articles "Taking the Stress Out of Dentistry for Kids" and "Age One Dental Visit."
By LaRoche Dental
June 02, 2014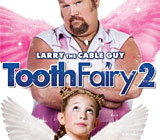 Did you know that severe tooth decay is America's #1 chronic childhood disease? Actress Brady Reiter didn't know either — until she became the star of the movie Tooth Fairy 2, and then joined forces with the National Children's Oral Health Foundation: America's ToothFairy®.
"Before, I didn't even realize what can happen to kids if they don't take care of their teeth," 11-year-old Brady recently told Dear Doctor magazine, after viewing photos of children suffering from severe tooth decay. "There are kids in America who don't know that it's important, or they just don't have the resources to be able to take care of their teeth or to go to the dentist."
This young Tooth Fairy knows just how magical — and vital to a child's self-esteem — a beautiful smile can be.
"When you feel bad about opening up your mouth and smiling, a kid's confidence just goes down the drain," she said.
NCOHF recently tapped 11-year-old Brady to head the America's ToothFairy Kids Club, which offers kids personalized letters from the Tooth Fairy along with lots of encouraging oral health tips and fun activities — free!
"I'm really excited to be part of it," Brady told Dear Doctor. "Kids learn how to take care of their of smile by joining this club. By supporting America's ToothFairy, we can help kids in need get dental care and have a healthy smile too. It's really amazing!"
While lots of kids get an occasional cavity, millions of children have tooth decay so severe that it interferes with their ability to eat, sleep, and concentrate in school. The good news is that tooth decay, a bacteria-induced infection, is preventable.
"When kids join the club, they learn how to prevent tooth decay. When families support this great cause, we can help kids in need. And that's what feels great — that we really can make kids' futures better."
If you would like to enroll your child in the club — it's free! — please visit www.AmericasToothFairyKids.org. And to make sure your child's teeth and your own are decay-free and as healthy as possible, please contact us today to schedule your next appointment.