Posts for: April, 2014
By LaRoche Dental
April 24, 2014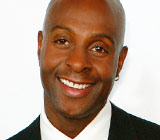 As a Pro Football Hall of Famer and first runner up on the hit television show Dancing with the Stars, Jerry Rice has a face and smile that truly has star quality. However, that was not always the case. During an interview with Dear Doctor magazine, the retired NFL pro discussed his good fortune to have had just a few minor dental injuries throughout his football career. He went on to say that his cosmetic dentist repaired several of his chipped teeth with full crowns. Rice now maintains his beautiful smile with routine cleanings and occasional tooth bleaching.
If you have chipped, broken or missing teeth, or are considering a smile makeover, we want to know exactly what you want to change about your smile, as the old adage is true: Beauty is in the eyes of the beholder. This is one reason why we feel that listening is one of the most important skills we can use during your private, smile-makeover consultation. We want to use this time to ensure we see what you see as attractive and vice versa so that together we can design a realistic, achievable blueprint for your dream smile.
For this reason, we have put together some questions you should ask yourself prior to your appointment:
What do you like and dislike about the color, size, shape and spacing of your teeth?
Do you like how much of your teeth show when you smile and when your lips are relaxed?
Are you happy with the amount of gum tissue that shows when you smile?
Do you prefer a "Hollywood smile" with perfectly aligned, bright white teeth, or do you prefer a more natural looking smile with slight color, shape and shade variations?
To learn more about obtaining the smile you want, continue reading the Dear Doctor magazine article "Great Expectations — Perceptions In Smile Design." Or you can contact us today to schedule an appointment so that we can conduct a thorough examination and discuss your cosmetic and restorative dentistry treatment goals. And if you want to read the entire feature article on Jerry Rice, continue reading "Jerry Rice — An Unbelievable Rise To NFL Stardom."
By LaRoche Dental
April 09, 2014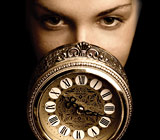 As the Baby Boomer generation moves into its 60s, more and more of us are concerned with looking younger. We do it with vitamins, diet, exercise, makeup, cosmetic surgery, and yes, even with cosmetic dentistry.
In recent years we have learned a lot about how aging affects the soft tissues and bones of your face. This has led to an approach to orthodontics that considers not only the teeth and jaws, but also the continuing growth of the bones and soft tissues of the face.
We used to think that growth stopped when people reached their late teens or early 20s. However, recent studies have shown that some kinds of growth continue throughout a person's lifetime. Your bones and facial structures change as much between the ages of 25 and 42 as they do between 18 and 25.
As you age your facial profile flattens, your nose becomes more prominent, the lower part of your face becomes shorter, and your lips become thinner. By studying these changes we have learned to consider them when planning orthodontic treatment. Modern orthodontics treats the entire face, not just the teeth.
The science of orthodontics is dedicated to slowly moving the teeth within the jaws to better functional and aesthetic positions, using standard braces or clear aligners. Sometimes the upper and lower jaws are so far out of alignment that more extreme treatment is needed. In such cases orthognathic (from ortho, meaning straight and gnathos, meaning jaw) surgery may be required to achieve the best results. Orthognathic surgery was once considered a drastic procedure, but it has become easier to manage during and following surgery and is now considered a more normal treatment option, like a facelift. Since the nose becomes more prominent as part of the aging process, the surgery is sometimes combined with rhinoplasty, or reshaping of the nose.
This new approach to orthodontics and cosmetic dentistry — taking into consideration the normal changes that occur as a person's face ages throughout life — requires teamwork among a general dentist, an orthodontist, and an oral surgeon. The results are a long-lasting change that holds back the clock on aging.
Contact us today to schedule an appointment to discuss your questions about cosmetic dentistry. You can also learn more by reading the Dear Doctor magazine article "Understanding Aging Makes Beauty Timeless."