Posts for: March, 2014
By LaRoche Dental
March 25, 2014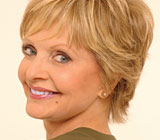 Florence Henderson is a multi-talented actress most recognized for her role as Carol Brady on The Brady Brunch, one of the longest-running situational comedies. In fact, this role earned her the title of America's Favorite TV Mom and her first TV Land Pop Culture Icon award, which is on permanent display in the National Museum of American History.
During an interview with Dear Doctor magazine, Henderson discussed her oral health as well as her role as spokesperson for Polident (denture cleanser) — even though she does not have dentures. Henderson attributes her beautiful, natural smile to prevention. "Flossing, brushing and regular dental checkups are vital if you want to keep your teeth," she said, adding, "I always have mouthwash, dental floss, toothpaste and a toothbrush on the set."
Similar to the great advice "Carol Brady" shared on television, Henderson's advice on oral hygiene is spot-on. We agree that an effective educational approach to oral hygiene and diet is essential to keeping teeth for a lifetime.
The first step is to ensure you have a proper brushing and flossing technique. We can go over these during your next office visit. Our goal is to ensure that you are applying the ideal amount of pressure and motion because gum tissues are soft and can easily be damaged. And you should never use a hard-bristled toothbrush or saw at your gums and teeth when brushing. The best technique is a modified, gentle scrub where you hold a well-designed, multi-tufted toothbrush at a 45-degree angle to the gum line to gently wiggle/scrub your teeth clean.
As for flossing, you should do it at least once daily to remove the plaque buildup that occurs in the protected areas between teeth where your toothbrush can't reach and where periodontal (gum) disease and dental caries (cavities) start and progress. Many people are shocked to learn that over 50% of the accumulation of plaque occurs in these areas.
To learn more about proper oral hygiene, you can continue reading the Dear Doctor magazine article "Oral Hygiene Behavior." Or you can contact us today to schedule an appointment so that we can conduct a thorough examination and discuss what treatment options will be best for you. And to read the entire interview with Florence Henderson, please see the article "Florence Henderson."
By LaRoche Dental
March 10, 2014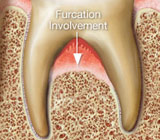 Although they may appear inert, teeth are anything but — they grow and change like other bodily tissues until complete maturation. Teeth roots are especially adaptable; teeth with multiple roots develop much like forks in a road as each root takes a different path toward the jawbone.
This fork where they separate is called a furcation. It's normal for lower molars and premolars to have two furcations, while upper molars traditionally have three. Furcations pose difficulties for teeth cleaning and maintenance. If bone loss has occurred around them, a condition called a furcation invasion has occurred. This loss is most likely due to periodontal (gum) disease, an inflammation arising from bacterial plaque on the teeth that hasn't been removed through proper oral hygiene.
We identify furcation invasions through x-ray imaging and tactile probing. They're classified in three stages of development: Class I describes early onset in which marginal bone loss has occurred, exposing a groove that leads to the beginning of the furcation; Class II is moderate bone loss where a space of two or more millimeters has developed horizontally into the furcation; and, Class III, advanced bone loss whereby the bone loss has extended from one side of the tooth to the other, or "through and through furcation."
Our first step in treatment is to remove any detectable plaque and calculus on the tooth surface, including the roots (known as scaling and root planing). These areas can be difficult to access, especially near furcations, and requires special instruments known as scalers or curettes. We may also employ ultrasonic scalers that use high-frequency vibrations coupled with water to break up and flush out the plaque and calculus.
We then apply antimicrobial or antibiotic medicines to further disinfect the area and inhibit bacterial growth while the affected tissues heal. As the infection and inflammation subsides, we then turn our attention during subsequent visits to address the bone loss around the furcation. This may involve surgical procedures to aid in re-growing gum tissue and bone and to create better access for cleaning and maintaining the area.
Finally, it's important to establish good oral hygiene habits and regular checkups and cleanings to prevent further complications or a reoccurrence of the disease. Maintaining these habits will help you avoid tooth loss and other problems with your oral health.
If you would like more information on furcations, please contact us or schedule an appointment for a consultation. You can also learn more about this topic by reading the Dear Doctor magazine article "What are Furcations?"